Dental Implants in Kellyville Ridge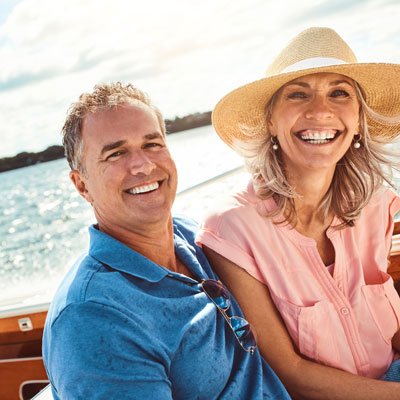 Dental implants are titanium screw-like posts that are surgically placed into the jawbone underneath your gums. Once in place, they allow Dr Amrita Rana (Dentist) to mount replacement teeth onto them.
Because implants fuse to your bone, they become sturdy support for replacement teeth. Dentures and bridges attached to implants won't move in your mouth. This fit helps the dentures and bridges – as well as crowns installed over implants – feel more natural than regular bridges or dentures.
For some, regular bridges and dentures are uncomfortable or even impossible, due to sore spots, poor ridges or gagging. Regular bridges must be attached to teeth on both sides of the space left by the missing teeth.
Benefits of Dental Implants
Patients may get dental implants to replace a single tooth, several teeth, or to support dentures. Here are some of the common reasons people get dental implants:
Dental implants help you chew better
Dental implants can help fill out a face that could look saggy due to missing teeth
Dental implants can prevent progressive bone loss in the jaw
Dental implants are the closest thing to natural teeth when it comes to functionality, appearance and feel.
The Dental Implant Procedure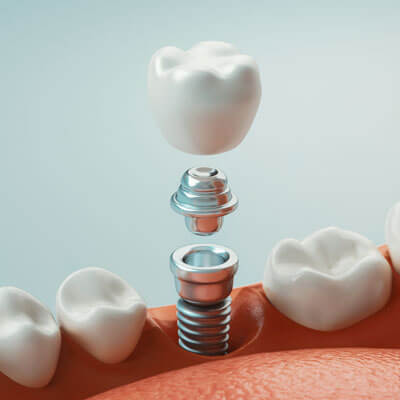 The first step in the dental implant procedure is designing your treatment plan. The treatment plan is focused on your specific dental care needs and preferences.
Next, a screw-like post made of titanium is placed into the socket of the missing tooth. As the jawbone heals, it fuses around the implant, securing it in the jaw. The recovery period can take 6-12 weeks.
Once the implant has fused with the jawbone, a small connector post called an abutment is attached to the post to support the new tooth securely.
To make the new crown, your dentist makes moulds of your teeth and creates a model of your bite. The new crown is based on this model. Then, the replacement crown is attached to the abutment.
Your dentist also will match the colour of the new crown to your natural teeth. The replacement teeth will look, feel, and function just like your natural teeth.
Find Out More
If you have one or more teeth that are worn, damaged, or infected by a cavity, Dental Cube can help with custom-made, lifelike dental restorations, like dental implants.
To learn more about dental implants, contact us now on (02) 8889 1588.
CONTACT US

Dental Implants in Kellyville Ridge NSW | (02) 8889 1588