Dental Veneers in Kellyville Ridge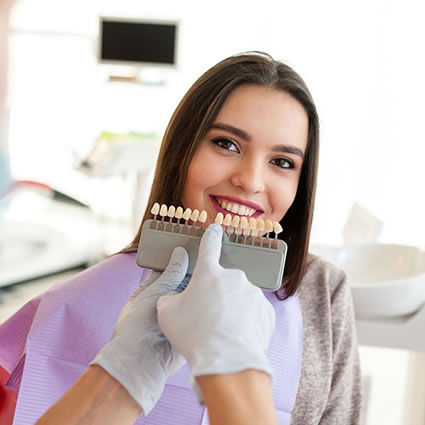 Dental veneers, also called porcelain veneers or porcelain laminates, are thin custom-made shells of tooth-coloured materials made to cover the front surface of teeth and enhance their appearance.
These shells are attached to the front of the teeth and can fix several aesthetic issues such as unattractive colour, shape, size, and length. The procedure is usually finished over two visits.
Before we plan on anything, we can create a mock-up of your teeth with proposed changes, so that you can have an idea of how they will look on you. From there, we can make the necessary changes.
At Dental Cube Kellyville Ridge, our veneers can be made from porcelain or resin composite materials to best suit your individual needs.
Advantages of Dental Veneers
Listed below are three unique characteristics of porcelain veneers:
Placing veneers is a relatively conservative process. As compared to placing dental crowns, veneers require much less tooth trimming.
The way they handle light is similar to natural teeth. This means you receive veneers that give a natural appearance.
And one unsurpassed by other types of dental restorations. Due to their porcelain surface, they offer superior stain resistance.
Who is a Candidate for Veneers?
Cosmetic veneers are ideal for anyone who has concerns over their tooth alignment (such as crowding or gaps) or chipped, uneven teeth. Perhaps you wore braces in the past and experienced relapse, or you simply want to take your smile to the next level. Since veneers can provide you with nice results in just a couple of visits, they're an excellent option for enhancing your smile.
Types of Veneers We Offer
Porcelain Veneers
Our premier veneers are crafted from highly aesthetic and durable porcelain materials. These veneers do require slight shaving of the natural tooth underneath. Each veneer is handcrafted in a lab, with a two-week pause between your preparation appointment and final placement. We offer a wax-up service that allows you to preview your proposed tooth colour, shape and size before the permanent veneers are crafted. This option makes it simple for you to see the planned results and make adjustments if necessary.
Composite Chairside Veneers
Composite veneers are relatively inexpensive. While they are not as durable or stain-resistant as porcelain, they allow for quick results in areas where timely aesthetic concerns are a priority. Most composite veneers need to be replaced every few years since they're prone to stain and wear.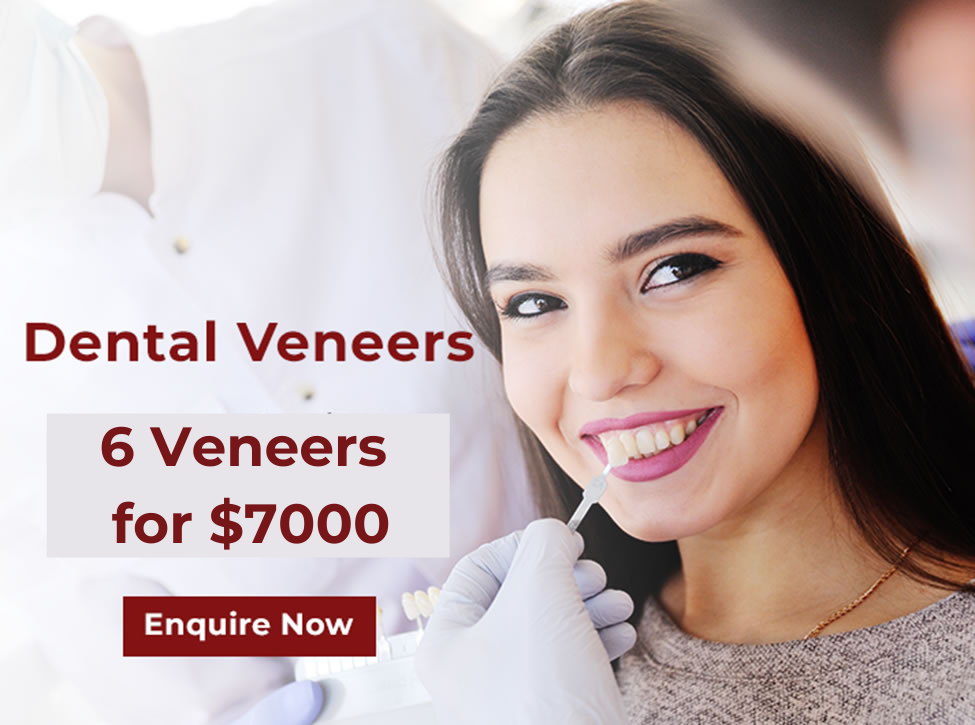 The Dental Veneers Procedure
Before veneers are applied, Dr Amrita Rana (Dentist) removes a very small amount of the tooth's surface to make room for the veneer.
She also takes a custom impression of the teeth and sends it to the dental laboratory so that customised veneers are fabricated. For this reason, veneers usually require two dental visits.
During the first visit, Dr Amrita conservatively prepares the teeth, takes an impression, and applies the temporary veneers.
On your second visit, she removes the temporary veneers, cleans the tooth and attaches the permanent veneers to the teeth. With proper care, veneers usually last for several years.
Frequently Asked Questions
What are the benefits of veneers?
Veneers look and feel like natural teeth. A tooth is naturally translucent. They are made of porcelain and will give you the appearance of a natural smile.
Your veneers can last for years as long as you care for them properly. Brushing, flossing and having twice-yearly checkups may help to extend the life of your veneers. Porcelain veneers are the most long-lasting option and can last up to 10-15 years if you take good care of them.
Neither porcelain nor composite veneers respond well to traditional whitening treatments. We recommend that you speak with your dentist before attempting any at-home teeth whitening.
While you may be unable to whiten veneers, there are several actions you can take to improve their appearance. Professional cleanings can help to remove surface stains; that's why we recommend regularly visiting your dentist to keep your veneers as bright as possible.
You also can consider professional teeth whitening before getting your veneers. Then, we can design your veneers to match the new, gleaming bright shade of your whitened teeth.
Are Dental Veneers Right For You?
At Dental Cube Kellyville Ridge, we believe everyone deserves a beautiful smile, and we are here to help you achieve this goal. We provide safe and effective cosmetic procedures to enhance your smile, including dental veneers.
CONTACT US
We offer Interest Free Plans – No Interest Ever!
We accept EFTPOS, all major Credit Cards as well as HICAPS, MBF, Medibank Private, HCF & all major health funds.
We are preferred provider of NIB.

Dental Veneers in Kellyville Ridge NSW | (02) 8889 1588