Dental Answers: Will I Ever Get Cavities with Dental Veneers?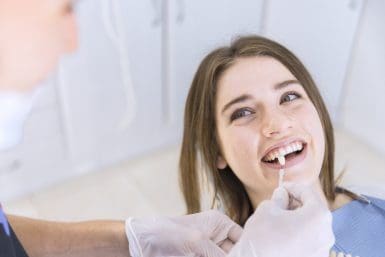 If you have a smile that is suffering from teeth of unattractive colour, size, shape, or form, in many cases, dental veneers are recommended as the solution.
Veneers are a relatively quick and easy way to upgrade the quality of your smile quickly. But you may not know much about veneers, how they work, how they are applied, and how they affect your overall dental situation.
Luckily, Dental Cube Kellyville Ridge is here with some explanations and answers. Let's take a look at what veneers are, what they do, and how they impact your dental health.
What are Veneers?
Simply put, they are covers for unattractive teeth, thin, backless shells of porcelain or composite material that are bonded on top of your natural teeth for two reasons — to protect the underlying tooth and to improve the aesthetics of your smile.
Dental veneers come in two forms, porcelain or composite.
Porcelain veneers are custom-manufactured in a dental laboratory, by a skilled technician working with models given by your dentist. Porcelain veneers offer the closest approximation of the translucency and lustre of healthy natural teeth. They are also quite durable and strong.
Composite veneers are typically built up in layers, using a tooth-coloured material, while you sit in the chair. One advantage of this is that composite veneers can be completed in one visit, while porcelain veneers usually take multiple visits. Aesthetically, composite veneers are thought of as not quite as attractive as porcelain veneers.
What are the Advantages and Disadvantages of Veneers?
The primary disadvantage of veneers is that they come at the cost of some of your healthy tooth. Somewhere from 3-30% of a tooth is typically ground away to create a site for the veneer, because otherwise it would protrude too far, and would not be well enough bonded. This is one of the reasons a desire for veneers should be well-discussed with your Kellyville Ridge dentist.
One misunderstood advantages of veneers has to do with cavities. Because tooth reduction is needed, some people believe that the chance of cavities increases with veneers. In fact, the opposite also happens. Veneers can actually protect tooth enamel from the cavity-causing acids produced by oral bacteria.
This does not mean that veneers offer complete protection against cavities, that is still dependent on your overall approach to oral hygiene.
The teeth beneath veneers can still have plaque and tartar build-up, which is a precursor to decay. If cavities do develop, the teeth may reach a condition in which they can no longer support your veneers, so good oral hygiene is needed.
Your dentist will give you some pointers on how to take care of both the natural tooth below the veneer and the veneer itself. Most of this advice will not be new to you.
Brush your teeth twice a day — 20 minutes after every meal if possible.
Floss daily.
Use a mouth rinse twice a day to battle bacteria.
Cut down on acidic foods and drinks, like citrus fruits, soda, and coffee.
Limit snacking.
Moderate intake of sugary treats.
Don't smoke.
Visit your dentist twice a year for a thorough professional cleaning.
If you currently have a high risk of decay, it is unlikely your dentist will recommend veneers as a solution to your tooth-related problems. Before you receive dental veneers, you should be sure that you are at low risk of decay. Obviously, part of that is your home oral hygiene as well as regular visits to your Kellyville Ridge dentist for check-ups and scale and cleans if needed.
Should you suffer from cavities after receiving dental veneers, there are two primary treatment options. For older veneers, replacement is often the best choice, while newer veneers may call for repair with a tooth-coloured bonding agent.
Dental veneers can be an outstanding, effective, and economical choice for teeth whose appearance you need to improve. The first step, as always, is to set up a consultation with your Kellyville Ridge dentist!
Veneers and Laminates at Dental Cube Kellyville Ridge
Dentistry in Kellyville Ridge
At Dental Cube Kellyville Ridge, we provide dental treatments in a fun, friendly setting.
From our caring, gentle staff, to our cutting-edge technology and amenities, we give our patients the best possible service.
We deliver individualised service to every patient and their unique needs. Your care and comfort are our priority.
Patient Comfort
We provide treatment that not only solves your dental problems but also takes away any fears you might have of visiting the dentist.
Dental Technology
Dental Cube Kellyville Ridge is always on the lookout for new and emerging technology to make our patients' experience as comfortable as possible.
Payment Plans
At Dental Cube Kellyville Ridge, we provide interest-free dental payment plans for all your general, preventive, restorative, and cosmetic dental needs.
For more information about veneers and laminates in Kellyville Ridge, call us (02) 8889 1588 or book your appointment online.
We are located at G4/8 Merriville Rd in Kellyville Ridge.
We offer Interest Free Payment Plans – No Interest Ever!
Frequently Asked Questions
NEED DENTAL ADVICE? JUST ASK US A QUESTION.
(replies during business hours)
Book Your Dental Consultation Today!
We offer interest-free payment plans with National Dental Plan- powered by Humm, Afterpay and Zip Money
Opening Hours
Mon-Wed: 9:00 AM – 5:00 PM
Thu: 9:00 AM – 5:00 PM (after-hours bookings available by appointment)
Fri: 9:00 AM – 5:00 PM
Sat: 9:00 AM – 2:00 PM
Sun: Closed
Parking
There is ample free basement carpark for patients onsite