Denture Treatments in Kellyville Ridge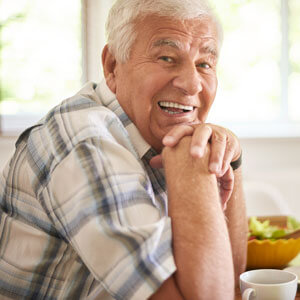 If you imagine dentures are comically large and white, let us suggest a few real choices that will add grace to your smile. At Dental Cube, we understand the challenges of living with missing teeth.
We offer a wide range of solutions that are designed to restore your smile and normal bite function, including permanent restorations such as dental implants, and temporary and removable solutions such as dentures.
Your trusted dentist utilises only the latest technology and services available to provide you with the custom-made restorative dental procedure through a denture application.
Types of Dentures
Partial Dentures
Partial dentures are made to connect to your existing permanent teeth surrounding the missing teeth. Partial dentures can be permanent or removable, and are custom-made to fit the patient's mouth and smile.
Complete Dentures
Complete dentures are made for patients who have lost all upper or lower natural teeth, or both. Complete dentures are designed to restore a natural-looking smile and allow the patient the ability to normally eat, speak, and smile again. Our team at Dental Cube utilises the latest denture technology to customise a complete denture restoration plan for your mouth.
The denture-making process usually takes a few weeks and several sessions. Your dentist determines what type of restoration is best for you.
Here's what they do:
Impressions of your jaw are taken, and are be evaluated as to how they related to each other and how much space is between them.
Models, wax forms, and/or patterns are made in the exact shape and position of the denture. You try this model on several times, and the denture is evaluated for shade, shape, and fit before the final denture is made.
After all the procedures, the final denture is manufactured.
Adjustments are made when needed.
Clean your dentures using fluoride toothpaste or mild soap and water before soaking them.
Soak them in a denture-cleaning tablet solution to remove stains and bacteria.
Brush your dentures again as you would your normal teeth. Be careful not to scrub them.
Your dentures may break if dropped, so you should wash them over a bowl filled with water, or something soft like a clean cloth.
Remove your dentures before sleep to avoid damaging them, dislodging them, and to give your gums time to relax. Soak your dentures in warm water to avoid drying and becoming misshapen. Use a denture-soaking solution if your dentures do not have metal components, as the solution can tarnish the metal.

Minor irritation and discomfort are normal when you first wear your dentures, but this should fade as your mouth gets used to them.
How long will my dentures last?
Dentures can last for many years if cared for properly. As long as you clean your dentures regularly and handle them carefully, they should last for a long time.
We also recommend that you come in for your regular checkups so we can check the fit of your dentures and assess your gum health.
How long does it take to adjust to a new denture?

The majority of people require at least a few weeks to get used to wearing a new denture. It may take some practice speaking and eating before you're ready to venture out into public. We find that most people typically adapt to partial dentures within a day or so.
Schedule Your Visit
If you have one or more teeth that are lost or need extraction, Dental Cube can fix it with custom-made, lifelike dental restorations, like dentures. Book a free denture consultation by calling us on (02) 8889 1588.
CONTACT US

Dentures in Kellyville Ridge NSW | (02) 8889 1588