Meet Dr Amrita Rana (Dentist)
I love to be able to make my patients smile and help them feel confident in their smile.
Dental Education and Professional Development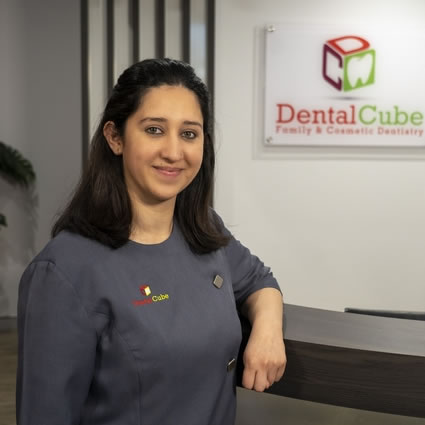 Dr Amrita completed her bachelor's degree in 2011 in India and started practising in a private clinic before moving to Australia. She cleared her Australian Dental Council exams in 2016 and worked with different practices (both in rural areas and in Sydney). Dr Amrita dedicates hundreds of hours to continuous professional development every year so that she is always up to date with the latest technology in dentistry.
She is also a member of the Australian Dental Association (ADA).
Offering Patients an Array of Services
Dr Amrita can perform a variety of dental procedures with a specific interest in smile designing. She shows genuine care for all her patients, putting her heart into all her work, whether it be general dentistry for you, preventive dentistry for little ones or restorative dentistry for your loving parents.
EXPLORE OUR SERVICES

Finding Fulfillment Helping Her Patients
Whether she's creating a beautiful smile for her patient using various cosmetic dentistry treatments or caring for a child's teeth, Dr Amrita genuinely cares about every patient who walks through our door. "The most rewarding part of my job is when patients tell me that it was the best dental visit they ever had."
Outside the Practice
When she's not crafting healthy and attractive smiles for her patients, Dr Amrita enjoys spending time with her little one.
Book an Appointment
Contact us today to schedule an appointment with Dr Amrita!

Dr Amrita Rana (Dentist) | (02) 8889 1588