Teeth Whitening in Kellyville Ridge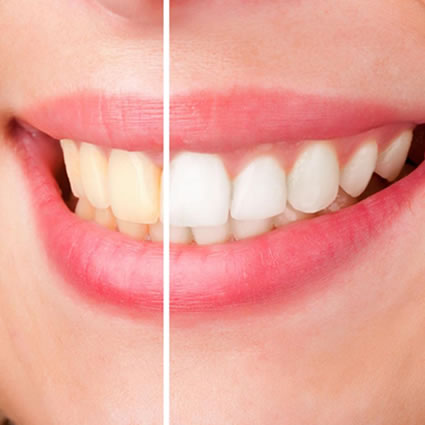 Everybody wants to have a brighter and whiter smile, and professional teeth whitening is the best way to achieve it. Teeth whitening is the most accessible cosmetic dentistry option for almost every patient and is safe and effective. Rather than masking discolouration, it brings out the natural whiteness in your teeth by neutralising pigments and stains.
We provide a broad range of whitening treatments to suit all budgets and lifestyles. Contact us at Dental Cube to find out more!
Advantages of Teeth Whitening
The most common advantage of teeth whitening is an enhanced, whiter, and brighter smile, which improves your appearance.
However, in addition to the aesthetic advantages with teeth whitening, other benefits include:
Increased self-esteem and confidence
Kills bacteria that may cause gum disease and/or tooth decay
Boosts your self-esteem
Causes of Teeth Discolouration
Your tooth enamel can also be stained by food and beverages such as tea, coffee, red wine, and blackcurrant. Smoking and using other tobacco products can also stain teeth.
Calculus or tartar can also affect the shade of your teeth. Some people have discolouration under the surface, which can be caused by certain antibiotics or by tiny cracks in the teeth into which stains settle.
Teeth Whitening Options
In-Office Tooth Whitening
Teeth whitening performed by your dentist can quickly achieve brighter teeth. The bleaching solution used in-office is usually much stronger than at-home whitening kits. Also, heat, curing light, or a combination of the two is used to speed up and intensify the whitening process. Most Zoom! Whitening sessions are completed in about two hours. The whitening gel is applied and light activated in 15-minute intervals. Each of our Zoom! Whitening clients also receive a complimentary set of take-home whitening trays. That way you can easily top off your whitening results as needed to keep your smile bright.
At-Home Teeth Whitening Options
Our take-home whitening kits include custom contoured trays that you wear for half an hour each day for 7-14 days. You can adjust how many days you wear them depending on the whiteness you hope to achieve and any issues such as sensitivity. With this teeth whitening option, a mouthguard-like tray is filled with a peroxide-based gel or paste and placed over the teeth for several hours a day for up to four weeks. Be sure to avoid dark foods or liquids for at least one week after whitening. Items such as red wine or tomato sauce, for instance, can cause re-staining if you have them too early on. The same can be said for tobacco products or anything that might stain a white shirt.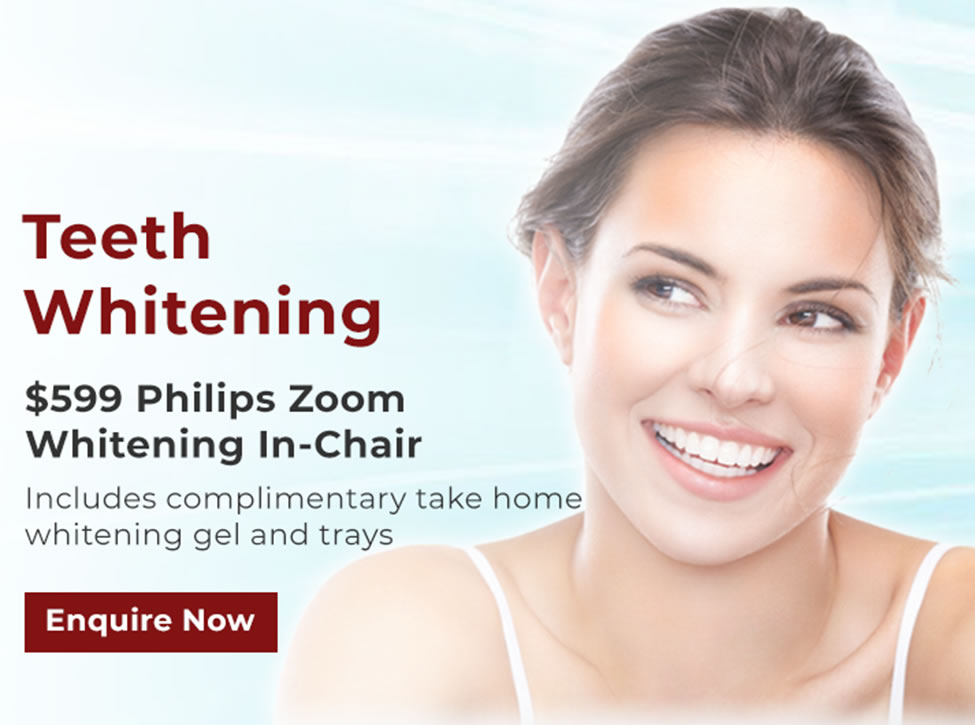 Before you whiten your teeth, we'll want to assess your smile to make sure you're a candidate. Every teeth whitening treatment begins with a consultation check and clean. Since whitening is more effective on recently cleaned teeth, you'll want to time your visits so that your scale and clean falls just a week or two before your whitening appointment.
People with heavy dental work or who are heavy smokers may not see the results that they'd like. The best candidates for whitening are people with healthy teeth and gums and no existing restorations in their 'smile zone'.

Teeth whitening isn't permanent. It can last from a couple of months up to 3 years – it varies from person to person. The whitening effect won't last as long if you smoke or drink red wine, tea, or coffee, which can all stain your teeth.
Can I have my whitening touched up?
Yes! We will give you a take-home kit so you can maintain your bright results at home. You also will be provided at-home instructions, so you know exactly how and when to use your whitening kit.
Along with whitening your teeth, it's essential to maintain excellent oral health and hygiene. We recommend brushing your teeth twice a day and flossing daily. These practices can help keep your teeth and gums healthy.
Will whitening make my teeth sensitive?

Whitening can make some people's teeth feel sensitive. However, our experienced dentist can limit any unnecessary discomfort, particularly if it's due to decay or gum infections. Dr Amrita (Dentist) will show you how to safely use whitening gels in a manner that reduces potential discomfort while still providing excellent results. You also may want to consider using toothpaste for sensitive teeth prior to your whitening procedure.
Book an Appointment
At Dental Cube, we believe everyone deserves a beautiful smile, and we are here to help you achieve this goal. We provide safe and effective cosmetic procedures to enhance your smile, including teeth whitening.
CONTACT US
We offer Interest Free Plans – No Interest Ever!



We accept EFTPOS, all major Credit Cards as well as HICAPS, MBF, Medibank Private, HCF & all major health funds.
We are preferred provider of NIB.

Teeth Whitening in Kellyville Ridge NSW | (02) 8889 1588